ABOUT THE SHOW
Experience the ultimate gathering of fishers, boaters, hunters, campers, and outdoor enthusiasts at this incredible three-day event! The BC Sportsmen's Show is renowned for over three decades of success and brand recognition, providing you with an unparalleled opportunity to connect with a captive, targeted audience.
There's no better way to showcase your brand than to invest in the show that consumers trust. Be a part of a community with thousands of loyal return customers and newcomers, making the outdoors accessible for all! From flyfishing to backpacking and beyond, we curate the perfect event to kickstart your season.
As 78% of show visitors report that they're ready to purchase, you don't want to miss out on this invaluable opportunity. Exhibitors consistently witness the overwhelming presence of their ideal customers at the TRADEX complex in this ultimate marketplace, conveniently located under one roof.
BOOTH PACKAGE & PRICING
BOOTH PACKAGE & PRICING:
All Exhibitors to the BC Sportsmen's Show will receive:
Exhibitor passes for your staff
24-hour security
Comprehensive Exhibitor Services Manual
Complimentary listing in the Official Show Guide
Aisle carpet throughout the show
Free VIP Passes *distributed amounts are based on booth size
Please choose the package that best suits your company's unique needs:
Standard Booth Space – 10 x 10                $1,400.00 per booth
Includes drape backdrop and side railing
Electrical is NOT included in this package
Deluxe Booth Space – 10 x 10                     $1,725.00 per booth
Includes drape backdrop and side railing
Includes 1500 watt duplex electrical outlet
10 x 10 show carpet
2 folding chairs
2x6 skirted table
Corner Booth – 10 x 10              Additional $100 per booth on the above pricing
Bulk Space
$5.15 per sq. ft. – over 2,000 sq. ft.
$6.00 per sq. ft. – 600 sq. ft. minimum
Ideal for those displaying boats, vehicles, campers, docks etc.
Note: Electrical is NOT included in bulk space
Outdoor Space - $3.75 per sq. ft. – 450 sq. ft. minimum.
Outdoor space is ideal for large displays of boats, vehicles, RVs, docks, etc.
Book Space
To fax or email your Space Rental Contract, please click the "Download" button to get a copy of the contract then send it in to us using the information on the form.
Date, & Time
Friday, March 1, 2024
Noon – 9pm
Saturday, March 2, 2024
9am – 6pm
Sunday, March 3, 2024
10am – 5pm
LOCATION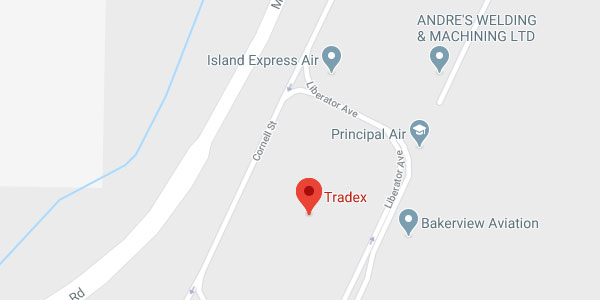 TRADEX
1190 Cornell St
Abbotsford, BC
V2T 6H5
(604) 850-1533