Door Prizes
Enter at the show to win this awesome prize from GA Checkpoint & Yamaha! 
Plus: You'll be entered to win a Soft Top 2-3 person Tent package courtesy of Dog House and Kitt Equipment!
Hunting, Fishing, and Fly Casting presentations
Stay tuned for schedules of all 40+ free presentations happening on the hunting, fishing, and fly casting areas at the show. Learn about this year's presenters below!
MEET THE SPEAKERS
Willie Holmes
Willie Holmes has been fishing for over 30 years. For the past 22 years, he has owned and managed Moorbrook Lodge Angling park, spending 15 of those years as a guide and instructor. He holds G.A.I.A., APGAI advanced qualifications in both single and double handed casting/fishing techniques and is also a qualified mentor and Assessor holding the L20 award.
His other qualifications include the Fly Fishers International CI, MCI and THCI and  Level 3 Examiner with the FFI. He is an EDP Faculty member and has delivered workshops in Ireland, England, Denmark, Poland, Italy and the USA. Willie is also a member of Loop Tackles Pro Instruction team and is a pro-staff member with Ballistic Speylines.
He brings experience from around the globe and his love for game fish is very evident - whether he's fishing some of his favourites like Steelhead and Salmon here in BC, or Atlantic Salmon back in Ireland. With his experience around Stillwater management, he is equally at home in BC's interior fishing for Trophy trout. Don't miss Willie at this year's show!
 
Dean Trumbley
Dean was born and raised in the southern interior of British Columbia and comes from a long line of hunters/fisherman in his family.  His grandfather Smokey Trumbley was a pioneer in the hunting/fishing media industry being on TV, radio and newspapers in the 70's and 80's with Dean always at his side.  Dean attended all of his post-secondary education in southern Ontario and was a professional wildlife/fisheries biologist for over 20-years.  Dean also used to guide big game in British Columbia and did problem animal control for the government as well.  His combination of experience as a hunter, fisherman, guide and professional biologist provided Dean with a knowledge set that has served him well throughout his outdoor career.  Dean has hunted all over the world and is one of the Hosts for the TV show Bushnell's Trigger Effect, alongside his life-long friend and fellow biologist/guide Kent Michie.
Steve Cyr
Steve has been a District Sales Manager with Yamaha Motor Canada for 8 years specializing in Outboard Motors. He also has 16 years experience at a Marine Dealership on Vancouver Island as a store manager. An avid Fisherman and scuba diver, Steve has always enjoyed life on the water. From Fishing the Barkley Sound on the West Coast of Vancouver Island to Pontoon boating on Sproat lake, most off time is spent in, on or near the water.

Chris Pryn
Chris is an avid backcountry hunter, always seeking the next challenge and epic adventure. Originally from Australia, he now resides in British Columbia with his wife and baby. A passion for storytelling drives Chris into these wild places as he searches high and low for the ingredients of a tale his children will one day retell.
Jordan Oelrich
Born in Kamloops, British Columbia, Jordan's obsession with fly fishing began at a very young age. Jordan joined the fly fishing industry at 17 years old as a shop employee, capitalizing on every possible chance to further his knowledge on local fisheries in the interior of BC.
Jordan began guiding at 18 years old, and now owns Interior Fly Fishing Co. out of his hometown of Kamloops. The constant pursuit for new fly fishing ventures has led Jordan to a multitude of destinations including Belize and southern Costa Rica in pursuit of Tarpon, Bonefish and any flats species that will chase a fly as well as steelhead across the Pacific Northwest.
Aside from guiding, Jordan is also a published photographer and writer as well as a fly tying instructor during the off-
Phil Rowley
Phil has been fly fishing for over 30 years. His love of fly fishing has taken him across North and South America pursuing trout, Atlantic and Pacific salmon, char, pike, walleye and numerous other species on the fly. Phil is probably best known for his stillwater exploits. Phil has appeared on a number of T.V. shows including, BC Outdoors Sports Fishing, Sports Fishing Adventures, The New Fly Fisher, Sport Fishing B.C., Fishing Alberta, Let's Go Outdoors and Fishing with Shelly and Courtney. Find Phil online at, www.flycraftangling.com or www.stillwaterflyfishingstore.com and through his social media channels, You Tube, Facebook, Twitter and Instagram.
Steven Smith
Steven Smith, owner and founder of Smith Game Calls based out of Beaverlodge, Alberta, Canada. Steven grew up in a hunting family and developed a natural talent for being able to call animals into close range, so what started out as a hobby developed into a brand, Smith Game Calls. Elk hunting and calling is one of Steven's greatest passions. Steven is a professional elk caller and promoter of hunting conservation efforts in Alberta.
Richard Kesslar
Richard brings 30 years of extensive sturgeon and salmon fishing experience; and after retiring pursued his passion by starting his own guiding business Hook Line & Sinker Adventures 16 years ago.  His 3rd trip out sturgeon fishing landed him a whopping 10' 8" - 900 lb. monster.  He has been pro-staffing for Rapala (lures, rods and reels, Suffix, Luhr-Jensen, Blue Fox, Storm, Trigger X, and 13 Fishing.). Come and learn how to catch Monster Sturgeon.
Antler Scoring
Show Us Your Buck
ATTENTION HUNTERS - bring us your heads, horns and antlers for scoring and get into the show for free!
Cabela's Kids Fun Zone
Families won't want to miss the Cabela's fun zone! Try out some outdoor activities geared toward kids of all ages.
Kids Fishing Pond
Try out the kid's fishing pond for a good cause, the Nicomekl Enhancement Society!
Pan for Gold
Yukon Dan will be at the show again this year teaching you how to pan for gold!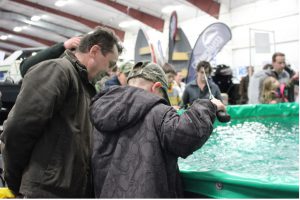 Fly casting Aisle
Visit the fly casting aisle to practice your skills! Presented by Fred's Custom Tackle.
Photo Contest
Stay tuned for the annual Facebook photo contest - You could win $100 to spend at the show!