Abbotsford, BC – Outdoor enthusiasts from across the region came out by the thousands to the 28th annual BC Sportsmen's Show this past weekend, March 1 through 3. The show completely filled the TRADEX complex, featuring exhibits for fishing, hunting, boating and more. It is the largest event of its kind in British Columbia.
"We are proud to say that this year was a great success for exhibitors, visitors, and everyone involved," said Les Trendall, Show Manager. "All three days started out with line-ups out the door, and in total, over thirty-two thousand outdoorsmen and outdoorswomen came out to enjoy the show. With a great group of partners, sponsors, and a dedicated fan base, the 28th annual edition of the BC Sportsmen's Show was an all-around hit."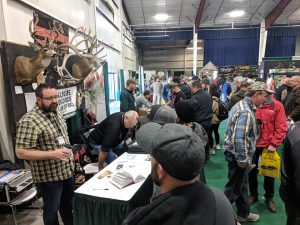 Especially popular features this year were the fishing and hunting demonstrations that took place all weekend long. The hunting stage played host to experts including Dana White of Fatal Impact Outdoors on Wild TV and Travis O'Shea, World Champion elk caller. In addition, 5-time World Champion fly caster Willie Holmes showed off his skill at the fly casting aisle, sponsored by Fred's Custom Tackle. Families enjoyed activities like the kid's fishing pond and Cabela's fun zone, plus the opportunity to pan for gold with Yukon Dan.
An exciting line-up of prizes were offered to attendees, from a Sturgeon Slayers fishing experience to hunting gear from Italian Sporting Goods. The grand prize was a choice of three different packages from GA Checkpoint Yamaha. The lucky winner was Doug Harrower, who opted for the G3 boat and Yamaha outboard package. Congratulations!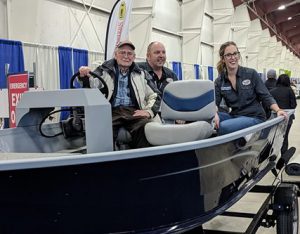 The BC Sportsmen's Show will return in 2020. For all the details, stay tuned to this website & follow the show on Facebook, Instagram and Twitter.
2019 Exhibitor List
0992760 BC Ltd.
2 Reel Fishing Adventures
4Boys Mfg. Inc.
Action Car & Truck Alccessories
Advanced Marine Products
African Dreams Hunting & PhotoSafaris
Alberni Power Marine
Apogee Trailers Inc.
AP Tackleworks
Army & Navy Department Stores
As seen On TV
Atlantis Marine
Atlantis Marine
Backcountry Hunters and Anglers - BC Chapter
Backroad Mapbooks
Bass Pro Shop
BC Federation of Drift Fishers
BC Fishing Resorts & Outfitters Assoc.
BC Fly Fishing Federation
BC Ministry of Environment
BC Outdoor Magazine
BC Placer Gold Claims
BC Trappers Associaiton
BC Wildlife Federation
Bent Rods Guiding & Fishing
Big Bear Tools
Bridgeview Marine
Brown Bay's Resort
Broad Distrbuting Ltd.
Cabela's
Callabus Boutique
Camping & Rving BC
Canadian Coalition for Firearm Rights
Canada's National Firearms Assoc. (NFA)
CapriCMW
Certified Autosound and Security
CFMOTO
CGHart Design & Marketing
Chilcotin Holidays
Chilliwack Dart & Tackle
Clearwest Solutions
Compliance & Enforcement Branch Minsistry of Forrest
Cooper Island Docks
CP Police Service
Critter Cove Marine Group Inc.
CT Inlet Marine Repairs
Daiwa Fishing (Graywood Sporting Group)
Defiance Equipment
Denali Charter
Douglas Lake Ranch
Ducks Unlimited
Eagle Island Resort
Evangel Distributors
Fish Finder Mounts
Four Wheel Drive Association of BC
Fraser River Sportfishing Alliance
Fraser Valley CFMOTO
Fred's Custom Tackle
GA Checkpoint
GA Checkpoint (outside)
Galleon Marine
Garmin International
Gibbs-Delta Tackle
Gold Country Communties Society
Gordo's Concessions
Grampa's RV
Greater Vancouver Powersports
Guide Outfitters Assoc. of BC
HearSmart Solutions
Hecate Cove Losge
High Caliber Adventures
High Caliber Adventures (Outside)
High Country Sporting Birds
Holiday Marine
Honda Canada
House of Q
Hub Sports
Husqvarna Group Corp
Inside Outside Studios (iHunter App)
International Paintball Group
Investors Group Financial Services
Iron Dreams
Island Fisherman Magazine
Islander Reels
Italian Sporting Goods
ITMB Publishing Ltd.
Jaw Portable Buildings
J Massage Tools
Joel Tapp
Johnson Outdoors
Joint Force Tactical Ltd.
Jolly Good Trap Company
JR Guiding Co Inc.
Kellend Watercraft Inc.
Kenetrek Boots
Kitt Equipment & Trailer Sales
Kits Inflatables
Kluane Wilderness Lodge
KUIU Ultralight Hunting
LandQuest Realty Corporation
Leica Sport Optics
Lethbridge College
Linwood Homes
Loop Tackle
Lower Mainland of the BC Wildlife Fed.
Lucky Sportfishing
Maple Marine Services
Maple Ridge Motor Sports
McKay Bay Lodge
MD Charlton
Meadow Lake Fishing Camp
Measurers Booth
Mercury Marine
Mile High Resort
Mr. T Contracting
Nicomekl Enhancement Society
Nikon Canada Inc.
Nile Creek Fly Shop
North Arm knives Ltd.
Northern Rockies Lodge
OASIS Outdoor Adven, Sport Insurance
O'Connor RV
Paradise Dock & Lift
Pelican Gear
Performance Water Sport
Pistol Pete Shoot Out
Poco Marine
Poco Military /Kent Outdoors
PontoonFX
Portable Winch Co.
Port Boat House
Prairie Aircraft Sales Inc.
Quad Riders ATV Assoc of BC (ATVBC)
Quantum Marine Services
Rambo Bikes (Coonhound Sales & Marketing)
Recreation Sites & Trails
RE/MAX 100
Rhineland Cutlery
Riptide Fishing Charters
Rite Angle Fishing Products
River City Marine
River City Marine (outside)
Road Runner Trailer Manufactures
Roche Lake Resort
Royal LePage 100 Mile Realty
Sandale Utility Products
SCI West Coast
Scotty Fishing & Marine
Scroll Saw Art - Gary S. Johnson
Semax Inflatable Boats
Sea To Sky Motorsports
Sempix Photo Scanning Services
Shake, Rattle & Paddle
Shearwater Resort & Marina
Sherwood Marine Centre
Siwash Sports Ltd.
Slam Bang Lodge
South Cariboo Visit. Cen. - 100 Mile
Sport Fishing Institue of BC
Sport Fishing On The Fly
Spruce Wilderness Lodge
Stihl Limited
Stryker Boats
STS Guiding Service
Sturgeon Slayers
Sundance Seafood - West Coast Select
Sun-Mar Corp.
Sutton Group-West Coast Realty
Swift Sport Trailers
Swiss Style Nuts
Tactical Innovations Canada
Tapped Tree
The Dock Company
The Fly Fishing Film Tour
The One Frog Two Company
Thrive Life
Tie Boss (RJS Sales)
Timber Pro Coatings Ltd. Mr. T Contracting
Toyota Canada / Lumency
Trademasters Linex
Trailhead Resort & Charter
Valley Fuel Injection Ltd.
Van. FV, Island Docks & Boat Lifts
Wapiti River Outdoors
Watkins - Living Naturally
Western Canoeing & Kayaking
Western Canoeing & Kayaking
Western Orthotics Ltd.
Westridge Products Inc.
Widget Tech Trading
Wild Sheep Society
Yukon Dan
Zebco Brands / Badlands Canada